These gluten free dairy free Oreo truffles are so easy and delicious. They're the perfect treat for any occasion, holiday or get-together!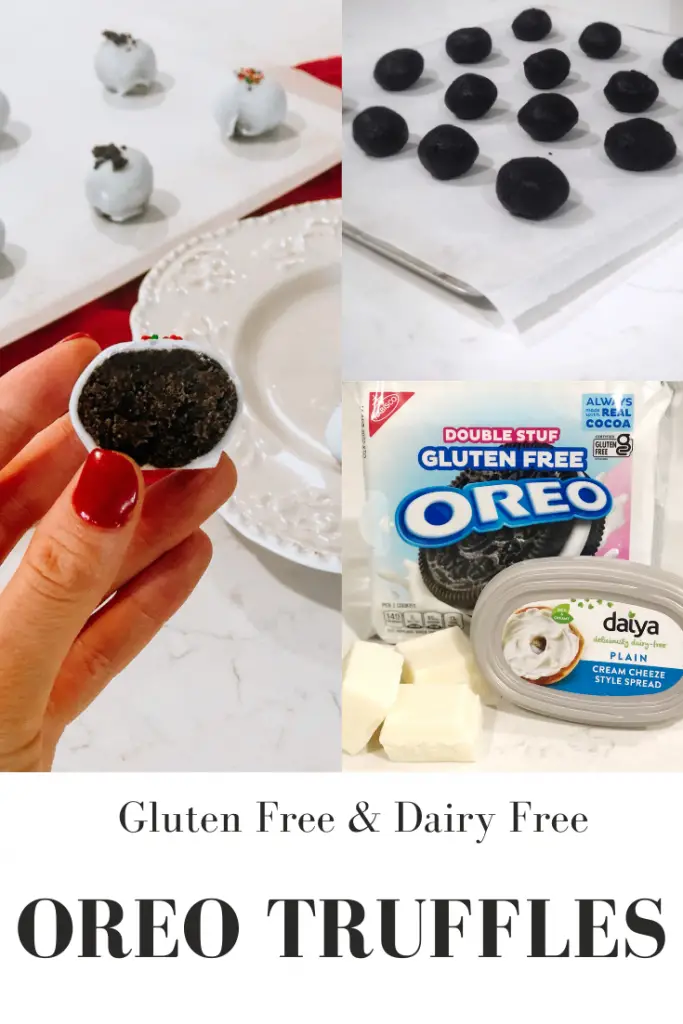 I don't know about you, but I am SO happy Oreo came out with a gluten free cookie! They were already a yummy dairy free option but now gluten free too, it's a wonderful thing. I have made traditional Oreo truffles/balls numerous times and they are always a big hit, no matter the occasion. I'm sure everyone will love this allergy friendly version.
This recipe is not only gluten free and dairy free it's also ridiculously simple. You only need 3 ingredients which I find at my local grocery store so no special trip required. Gluten free double stuff Oreos (if you can't find double stuff that's ok, but because gluten free cookies tend to be on the dry side try to find the double stuff), dairy free cream cheese (I like the daiya brand) and your choice of dairy free chocolate. Did you get that? Oreos, cream cheese substitute and chocolate. That's it! Now let's get to making some truffles 😋
Ingredients Needed
First things first
In order to make your truffles creamy and dreamy, which is what we're going for here, you really need to use a food processor. It's by far the easiest method. However, if you do not have a food processor you can use a blender or crush them in a plastic bag.

Step 1

Place entire package of gluten free double stuff Oreos into your food processor. We're off to a great start, aren't we? (Insider tip: if you're wanting to top your truffles with crushed Oreos, save back 1 or 2 pieces of cookie you can crush up and top your truffle with). To the cookies add 1/4 cup room temperature cream cheese substitute and let the food processor do the work. I told you it was easy! Gluten free cookies tend to be a little dry so if your mixture still looks a little crumbly here you may need to add more cream cheese. Add a tablespoon at a time until it's moist and will hold its shape.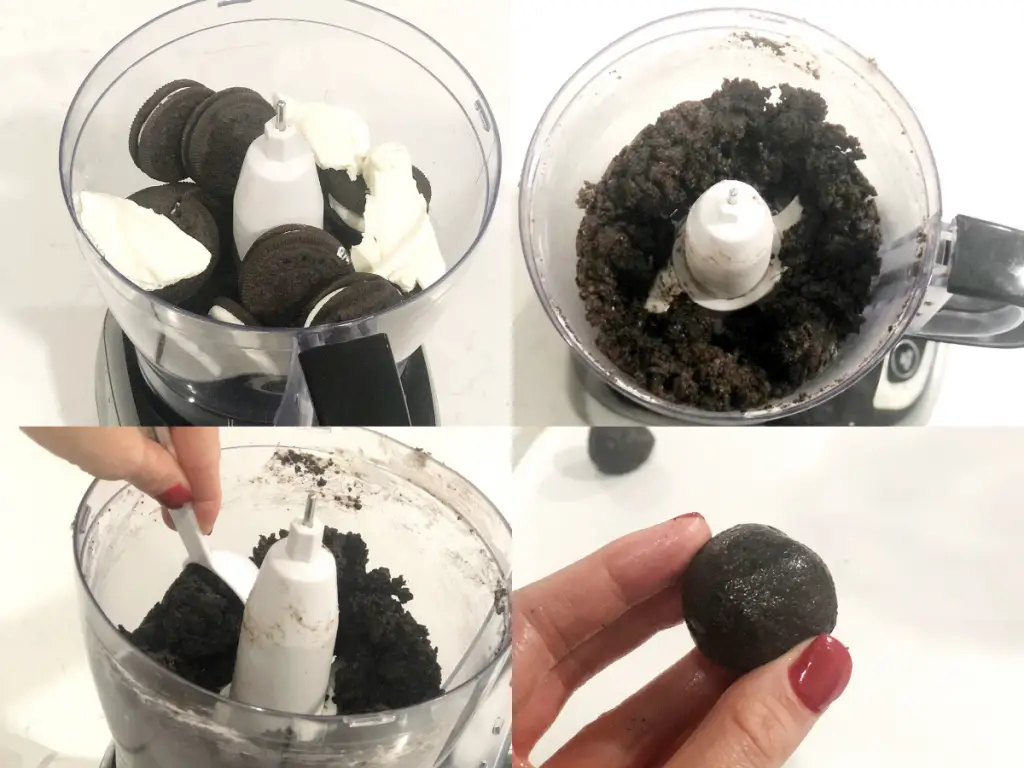 Step 2
Once your mixture looks smooth and truffle-like you're ready to start forming your truffles. I am a little extra in the sense that I like all of my truffles to be the same size. So for this step, I use a1 tbsp measuring spoon to scoop out the truffles. You can use a cookie scoop, ice cream scoop if you want jumbo size or just a regular spoon. It's up to you! Scoop out your truffle, roll it into a ball and place it on a baking sheet lined with parchment paper. I was able to form 16 truffles because I have hungry kids and they ate several Oreos in the process. And by kids I mean me, so you may be able to get more or you may be hungry and end up with 16 like me. There's no hungry like nursing mom hungry, let me tell you!

Step 3
Once your truffles are all scooped and shaped into truffle form place them in the freezer for 15 minutes.

While this is happening feel free to do some dishes, prep your toppings and melt your chocolate. I place mine in a microwave safe bowl, microwave it for 30 seconds, stir and repeat until it's all melted. You can use this method or be fancy and melt it on a double boiler. Whatever it takes to get the chocolate melted!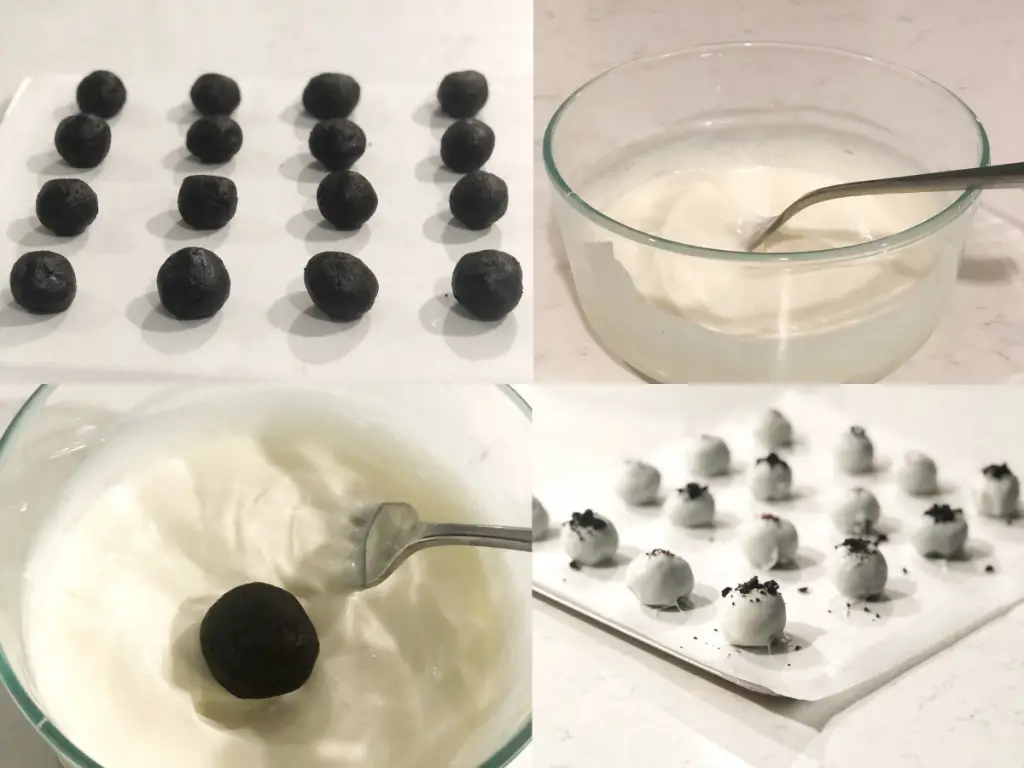 Step 4
When the 15 minutes are up, simply dunk your truffle into the melted chocolate and use a fork to tap it on the side so all the chocolate coats your truffle. Yum! I use a butter knife to gently slide the truffle back onto the parchment paper and immediately top with sprinkles, cookie crumbs or more melted chocolate. You really can't go wrong here. Allow the chocolate coating to set for about 5-10 minutes.

Ta-da! You're done.
Now all that's left is to impress your friends and family with these easy and delicious gluten free dairy free Oreo truffles. I hope you enjoy them as much as we do!

Find more Gluten Free/Dairy Free recipes here!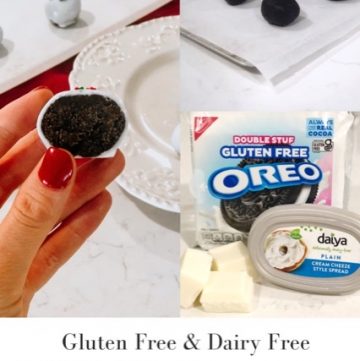 Gluten Free Dairy Free Oreo Truffles
These Oreo Truffles are the perfect treat for any occasion. They couldn't be easier to make and they only require THREE ingredients! They're always the first thing to go at parties, they're sure to be a favorite!
Ingredients  
1

package

Gluten Free Double Stuff Oreos

4

ounces

Dairy Free Cream Cheese

8

ounces

Dairy Free White Chocolate Candy Melt

1-2

cookies

Cookie crumbs for topping
Instructions 
Line an 18x 13 baking sheet with parchment paper.

Place entire package of Double Stuff Gluten Free Oreos (minus 1-2 cookies if topping truffles with cookie crumbs) into food processor along with 4 ounces of room temperature dairy free cream cheese and pulse until smooth consistency.

Once mixture has reached desired consistency, use a 1 tbsp measuring spoon to scoop out truffle mixture and roll into a ball before placing it onto baking sheet with parchment paper.

Place truffles in freezer for 15 minutes.

Melt almond bark according to directions on package in either a microwave safe bowl or double boiler.

Remove truffles from freezer and dip into melted chocolate. Use a fork to gently coat truffle, tapping on the sides to remove excess chocolate.

Return truffle to baking sheet and immediately sprinkle with sprinkles or cookie crumbs. Allow truffles to set for ~5-10 minutes.

Once truffles are set, serve immediately or store in refrigerator in air tight container.
Notes
If you don't own a food processor you can place Oreos in a blender or large resealable bag, seal bag and crush with a rolling pin until finely crushed.