Looking for an easy and inexpensive natural house cleaner? This DIY, non-toxic, all-purpose cleaner requires only 3 ingredients and works so well! Make the switch and replace all your conventional cleaning products with this simple natural house cleaner.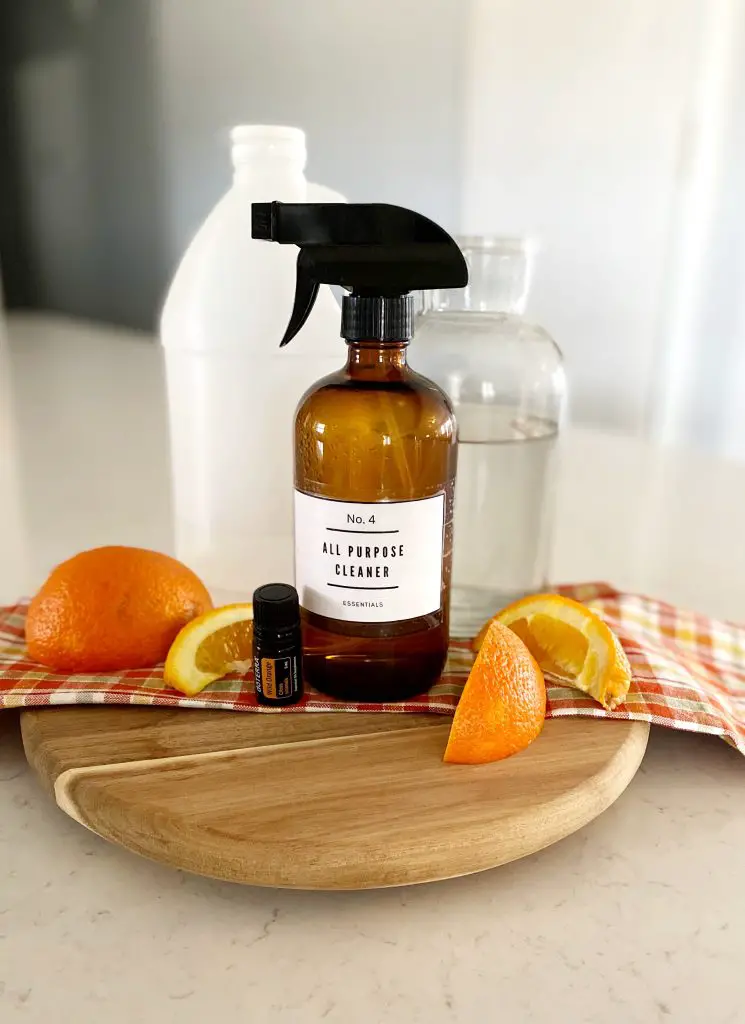 Toxic Cleaning Products
I think it's safe to say we've all become more aware of the ingredients in our food, beauty products and cleaning products in recent years. Just strolling through the aisles at stores or looking online the "healthy" food section and "clean ingredient" products are becoming more and more popular and that's great!
However, you still have to read labels carefully and know what you're looking for.
Especially if you have a child who's sensitive to even "healthy" ingredients like mine. Mint-highly allergic, tomatoes-highly allergic, dyes-highly allergic….you catch my drift. I have learned over the years that it is WAY easier and more cost-effective for me to make our own cleaners so I don't have to do any of the guess work of what's in my cleaning products.
I'm not going to lecture or bore you with tons of facts. I think we've all heard enough of that. But I do think it's worth mentioning that the average American is exposed to around 500,000 chemicals a day. That's a lot!
If making our own cleaner is one way we can help provide a safe and healthy environment for our families, not to mention it's super easy and we can actually save money while doing it. Sign me up!
Non-Toxic Cleaning Products
Now if you're like me, the one thing I do miss about the toxic cleaners is the "fresh clean smell". Anybody else? I absolutely, positively loathe the smell of vinegar. Gag! Apple Cider Vinegar? Even worse. I know I can't be the only one!
I would always find myself in the dilemma of wanting to use non-toxic products but really missing the clean smell from the toxic cleaners-that I'm sure were pure chemicals!
Let me tell you, this cleaner has all the cleaning power and 'clean smell' with none of the toxins. Promise! The secret? Essential oils. They make all the difference for me. And it's amazing how a little goes a long way.
So how do you make natural cleaners? Glad you asked!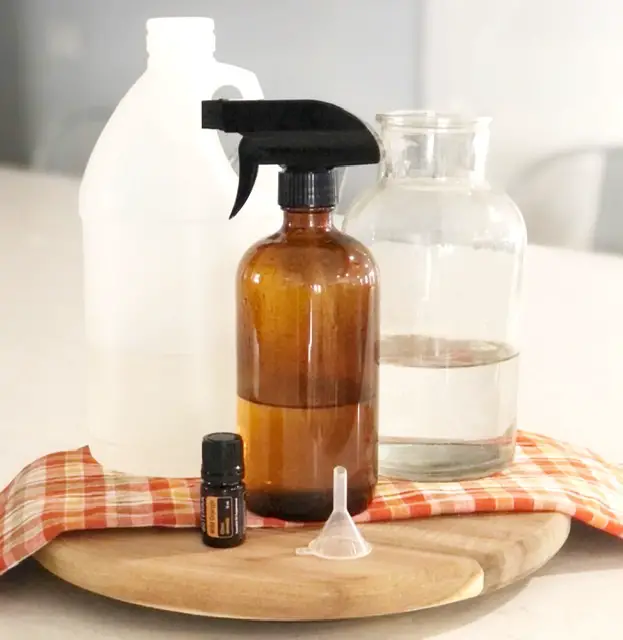 How To Make Natural Cleaners
To start, find natural ingredients that have anti-viral, anti-septic and antibacterial properties. Things like vinegar (mentioned above), baking soda, castile soap, coconut oil and essential oils.
My favorite essential oils for cleaning are for sure the citrus scents. There's just something about the smell of lemon or orange in a clean kitchen.
Here a few examples of oils that are great for all-purpose cleaners:
Lemon
Lime
Wild Orange
Cinnamon
Lavender
Peppermint
Of course, you can use whatever oil you want these are just a few examples/suggestions. These oils can be used to disinfect, cleanse, purify, kill germs and have anti-bacterial properties. And they smell great!
Note: If you are going to be adding essential oils to your cleaner (which I highly recommend) be sure and use a glass spray bottle. Over time, essential oils can break down plastic and pull the toxins from the plastic. This is why glass is recommended, preferably amber or blue-colored for storage. When clear bottles of essential oils are in direct sunlight, they can lose their potency and
What will I need for my natural all-purpose cleaner?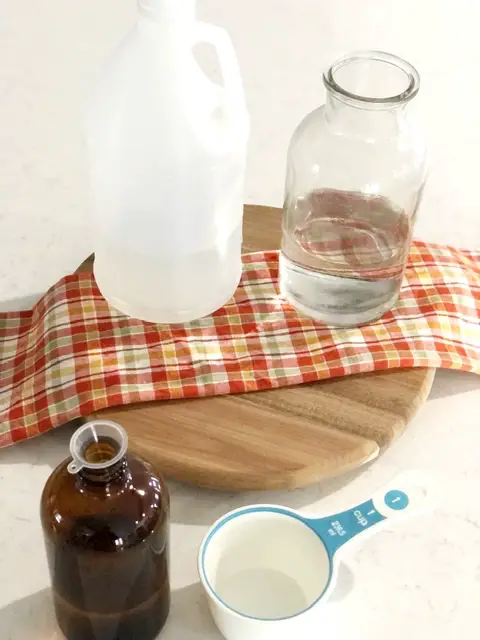 Vinegar, water and essential oils. That's it! I told you it was easy.
Vinegar
Vinegar is very acidic which makes it good for cleaning. It can dissolve soap scum, hard water stains, mineral deposits, and detergent residue. There are several different types of vinegar but for this recipe it is best to use white vinegar.
Vinegar shouldn't be used on every surface, such as granite and marble. It can ruin natural stone, so be careful with this!
Water
Water probably needs no explanation but it is crucial for diluting the vinegar and essential oils or whatever natural ingredient you choose.
You can use straight tap water or distilled water. Distilled water is my go-to, (or water that has already been boiled) because it will last longer in storage as that cuts down on bacteria growth.
Essential Oils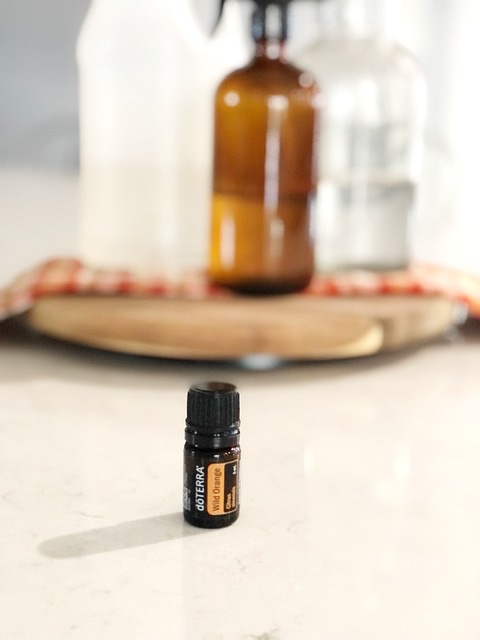 You can choose which essential oil(s) you want to use in your cleaner. I would also just like to add that there are now several options of "essential oils" at local grocery stores, convenient stores and craft stores. So please just be careful of what kind you choose. Remember the main goal is to be toxic-free so get good, quality essential oils. Here's where I get mine.
For a typical 16-ounce spray bottle, you'll need 25 drops of essential oils. You can adjust this according to the amount of cleaner you are making.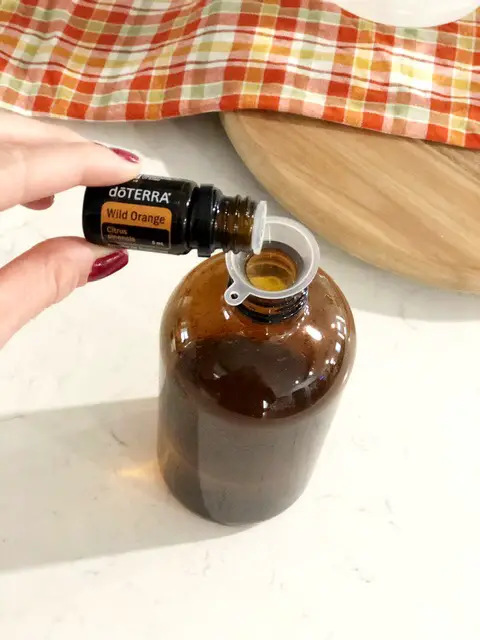 As mentioned earlier, it is best to use spray bottles that are glass and dark in color. You can find spray bottles at your local store, or you can order them on amazon. I found mine here.
Find your Free Printable here! You can customize the label to fit your personal spray bottle before printing. Happy clenaing!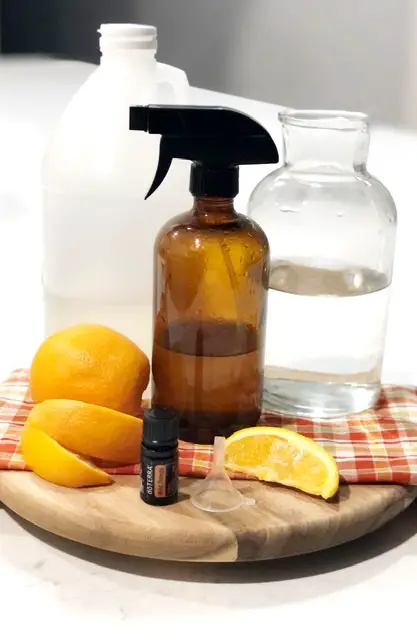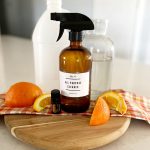 Print
DIY All Purpose Cleaner with Essential Oils
Learn how to make a DIY, non-toxic, all-purpose cleaner with only 3 ingredients that works well!
Materials
1

16 ounce

glass spray bottle

1

cup

white vinegar

1

cup

water (preferably distilled)

20-25

drops

essential oil
Instructions
Use a small funnel to add water and vinegar to glass spray bottle.

Add 20-25 drops of preferred essential oil. Shake well before use. Store in cool, dry place.