Here I'll show you how to make an Easy Gluten-Free Easter Egg Rice Krispies Treat using Rice Krispies cereal, gluten-free marshmallows, butter and an Easter egg. They are so easy and delicious everyone is sure to love them!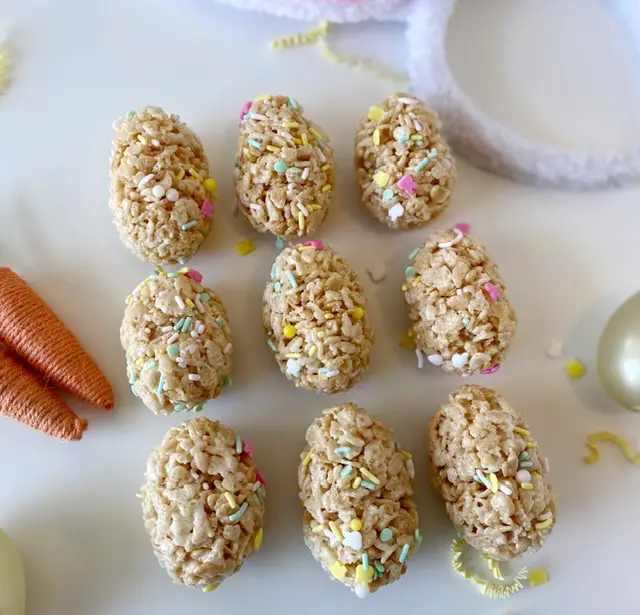 As mentioned before in a previous post, I LOVE Spring! And this Easy Gluten-Free Easter Egg Rice Krispies Treat is the perfect spring snack. Personally, I am not a fan of the cold. I can tolerate it enough for Christmas and enjoy building snowmen and making snow ice cream with the kiddos. But by March, I am over it. Can anyone else relate?
Thankfully, we don't have severe or long winters where I live so I shouldn't complain, but lets just say I am not sad to see it go! The kids and I get so excited when we can finally go play outside, take our evening walks, plant the garden…it's pure bliss!
Not to mention Easter-it's my absolute favorite holiday. I love the pastel colors, the weather, baby animals, picking out Easter outfits, spring family photos, church. So many fun things to look forward too. Like these adorable Easter Egg treats! Last week I shared our favorite Allergy-Friendly Easter Candy, if you missed it, go check it out! I shared several ideas for filling Easter Baskets. But this is a fun and super easy gluten-free recipe that we love to make together!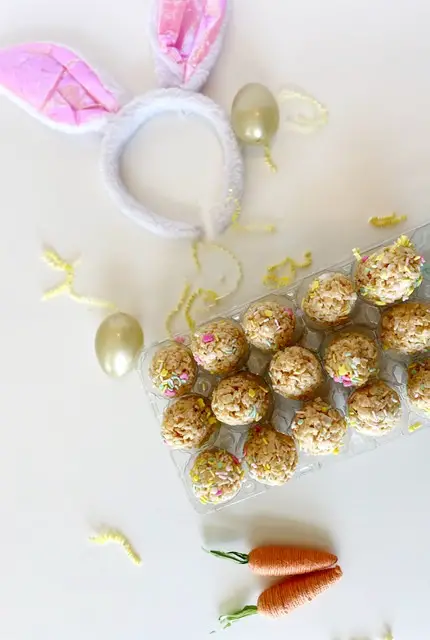 Ingredients For Easy Gluten-Free Easter Egg Rice Krispies Treat
Thankfully, like traditional Rice Krispies treats, this recipe requires only 3 simple ingredients. I told you they were easy!
*Not all Puffed Rice Cereal and Mini Marshmallows are gluten-free so always, be sure and check the labels to make sure they are gluten-free. Kellogg's Rice Krispies cereal is not gluten-free because it has malt flavor listed in the ingredients. Malt flavor is made from barley, which is a gluten-containing grain. I have never seen a brand of marshmallows that were not gluten-free, but it is important that you always read the label because companies often change their ingredients. I just used the Great Value brand mini marshmallows.
4 Tablespoons (half a stick) Unsalted Butter or dairy-free butter alternative-this is one of my favorite butter alternatives. It has all the delicious butter taste but without the dairy.
6 Cups Gluten-free Puffed Rice Cereal-Thankfully there are several brands of gluten-free Puffed Rice Cereal. I used Millville (Aldi brand) Crispy Rice cereal because it is now gluten-free and I love shopping at Aldi! The Malt O Meal brand from Walmart is gluten-free and the Nature's Path Organic Crispy Rice at Target is also gluten-free.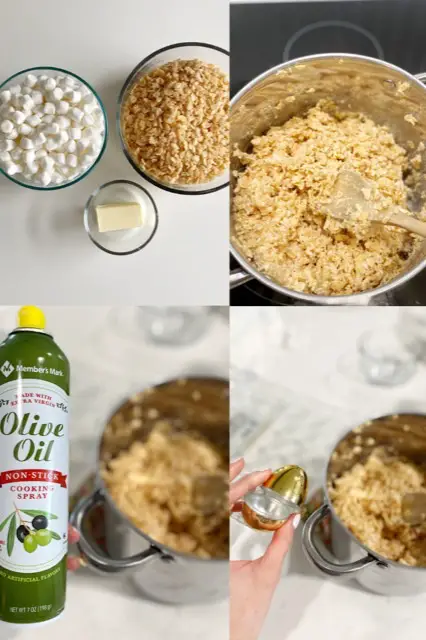 How To Make Easy Gluten-Free Easter Egg Rice Krispies Treat
Step 1
Over medium heat, melt the butter or butter alternative in a heavy-bottomed pot. Once melted, add the mini marshmallows and stir constantly until marshmallows are completely melted and combined.
Step 2
Remove from heat and add the Rice Krispies cereal. Stir carefully until all the cereal is evenly coated in the butter and marshmallow mixture.
Step 3
Working quickly, spray the inside of a plastic Easter egg with nonstick cooking spray. Spray your hands as well and stuff each side of the Easter egg with the Rice Krispies mixture so it comes out slightly of each half. Then press the two sides together firmly to seal the egg. Open the egg and gently remove the Rice Krispies treat. Repeat this process with the rest of the cereal mixture, spraying the egg and your hands as needed with cooking spray. (see images below)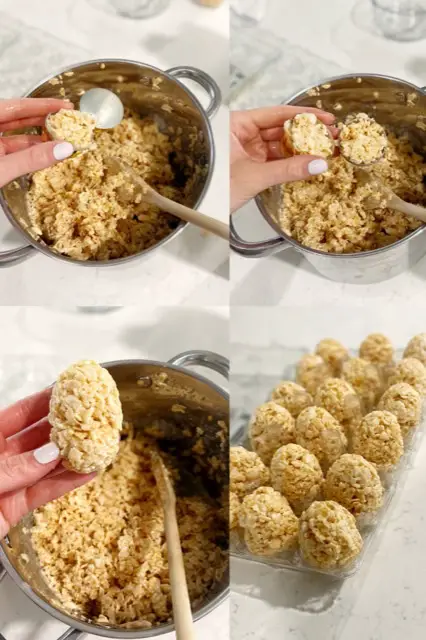 Ta-da! They're as easy as 1-2-3!
You can leave them plain and enjoy them as is or you can decorate them with sprinkles and/or melted chocolate. As many of you know, my daughter is allergic to several dyes, but we have found some fun artificial dye-free sprinkles that we like to use for special occasions.
I had a couple different bottles of sprinkles left over from last year so we just dumped them all together in a bowl and we were all happy with how they turned out.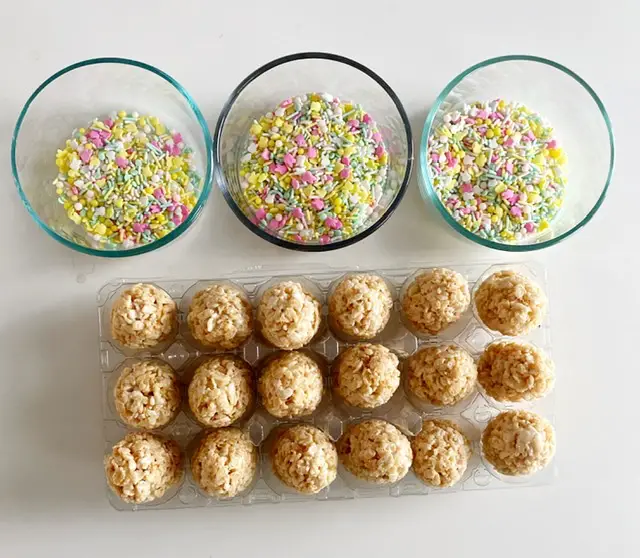 My kids absolutely LOVE to help me in the kitchen and I love having them help me. They're my little sidekicks and constant shadows if you can't tell 😉 and I wouldn't have it any other way. They had a great time watching me shape the eggs and had even more fun getting to decorate them.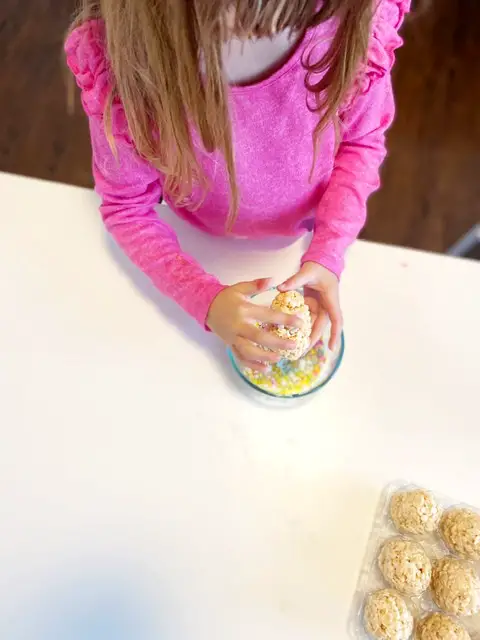 We did a more subtle sprinkle, but you can put your own creative touch on them and use as little or as much as you'd like!
Variations For Easy Gluten-Free Easter Egg Rice Krispies Treat
Use food coloring instead of sprinkles- If you're looking for more of a 'color pop' or traditional Easter Egg look, add some food coloring to the cereal mixture before forming your eggs. This will give you a nice bright color that's perfect for Easter! My favorite artificial dye-free food coloring is linked here.
Dip in Melted Chocolate– This is another adorable and delicious option. Again, you can use food coloring to give it more bright and spring-like colors or you can leave them. You can place the chocolate in a piping bag and drizzle it over the eggs or you can half or all of the egg in chocolate. Need some dairy-free chocolate? No worries! Here's my favorite dairy-free melting chocolate.
Place a 'prize' inside each egg- Place a Cadbury Egg or Dye-Free Jelly Bean inside of each egg. It's a fun surprise for each kid to bite into the egg and find a prize!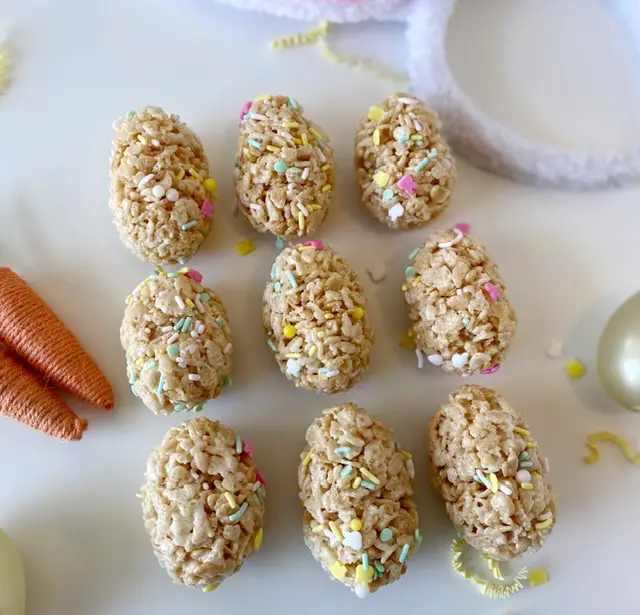 However you decide to make them, I hope you and your family enjoy them as much as we do. Happy Easter and as always, happy baking!