The BEST Gluten-Free Chocolate Chip Cookies! A few tricks make these gluten-free cookies perfect – soft, chewy and irresistible. Easy-to-make and no one will believe they are gluten-free!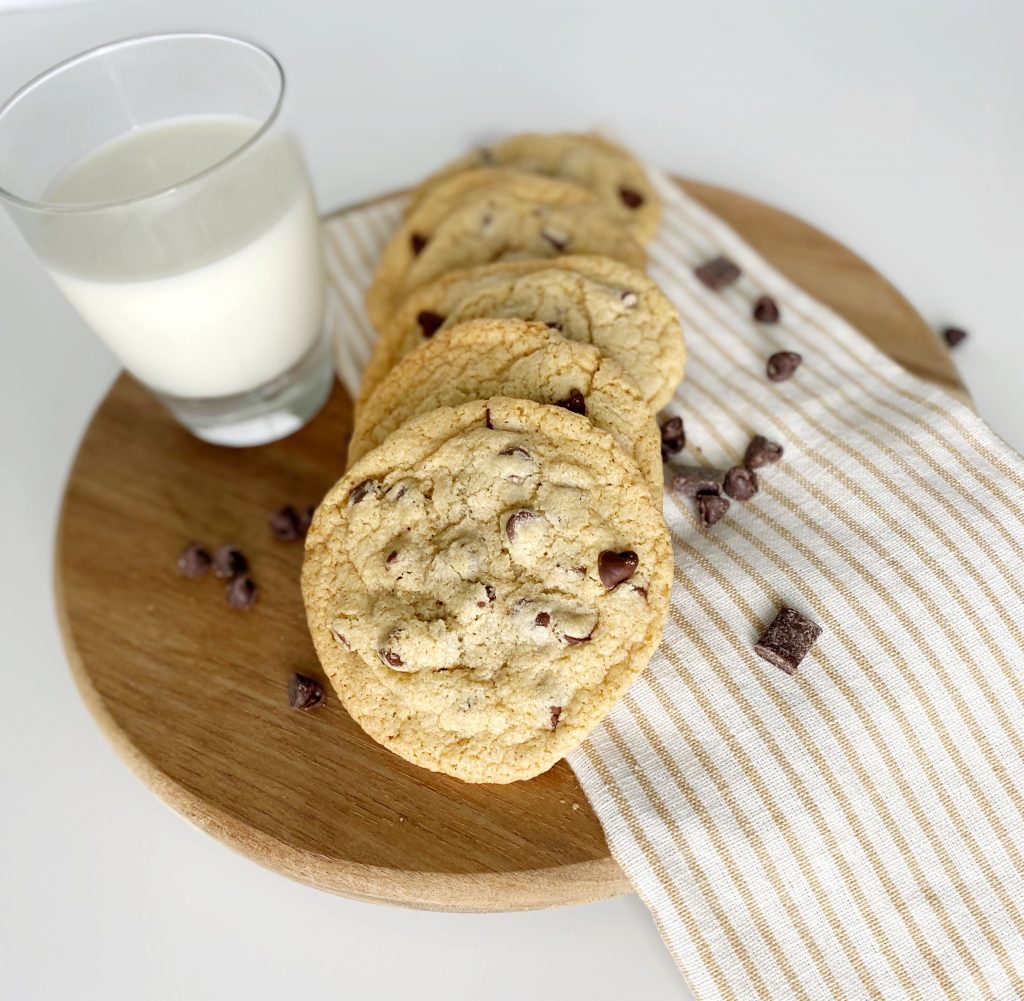 Chocolate chip cookies are a staple at my house. They are my husband's absolute favorite cookie, so I had the recipe memorized early on in our marriage. I seriously think I could make them in my sleep! My 7 year old daughter is always in the kitchen with me learning the tricks of the trade and I have no doubt she will be mastering these cookies soon.
Of course, I have tweaked and perfected the recipe over the years as many of us do. One revision being making them gluten-free and dairy free if needed.
You can imagine my husband's dismay when I was going to make some changes to his ultimate favorite cookie (that he craved more than I did during my pregnancies. Ha!) However, I was determined to keep the classic and distinctive flavor and texture that we all loved but make them so that our sweet girl could enjoy them with us!
I am happy to say that these gluten-free chocolate chip cookies are the real deal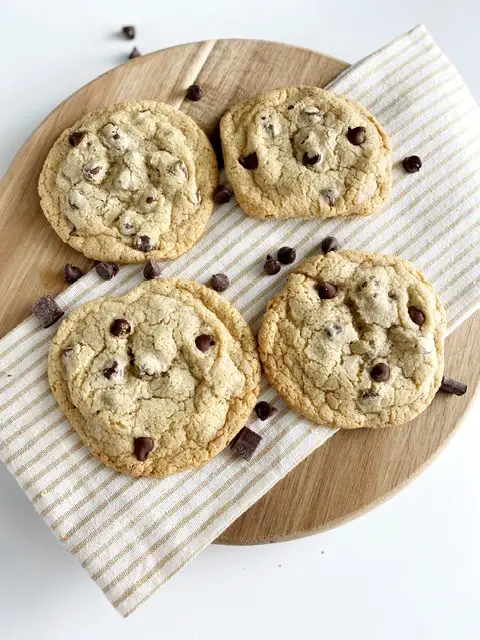 They have the same texture, consistency and chewiness but none of the gluten. The real test was when I made them for my dad and grandpa. These two are very kind and supportive of my daughter and her food allergies, but they don't touch the 'health foods' and gluten-free breads and cookies…..if you know what I mean. They very much like what they like and don't want their favorite cookie changed.
We had them over for a visit and I made chocolate chip cookies like I always do, but instead of my regular recipe I made these gluten-free chocolate chip cookies and they could not tell the difference! Let me tell you, that was the ultimate test and these cookies passed! My dad can detect the slightest change and can definitely tell if something is gluten-free or not but they genuinely could not tell the difference or that I had done something to my cookies. And I am famous for my chocolate chip cookies.
I was so happy to have succeeded and I am so happy to share this recipe with you!
Ingredients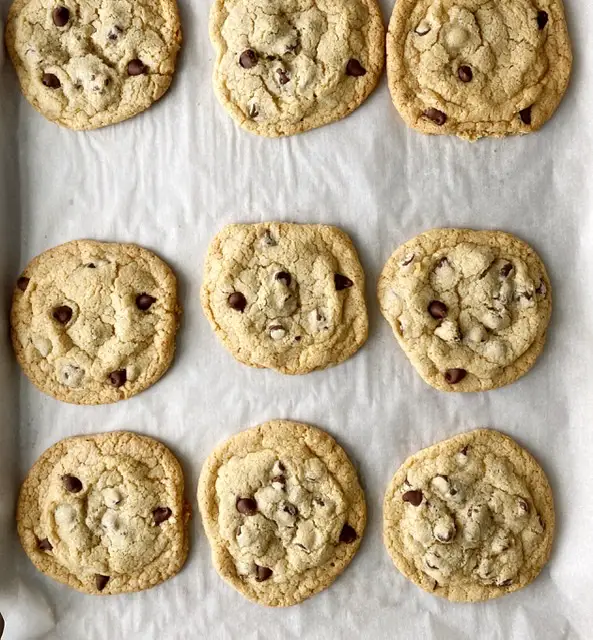 One reason this recipe is so easy is it doesn't require very many ingredients! All you need is: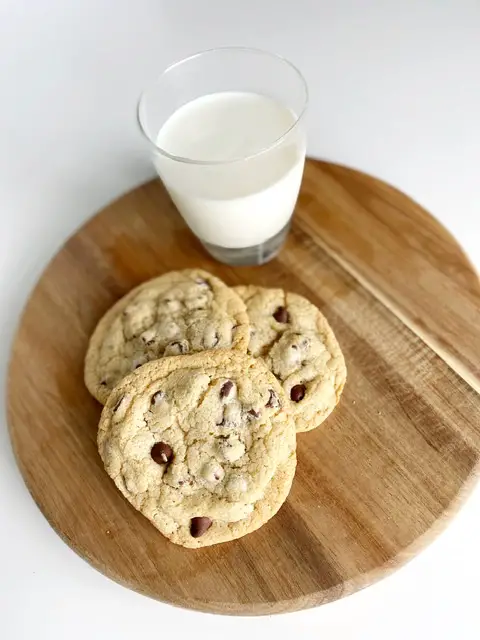 Start by adding the brown sugar, white sugar, softened butter (or butter substitute), egg (chilled) and vanilla to a mixer. Beat until well combined.
My 'secret' or trick here, is that I use softened unsalted butter and a chilled egg. Most baking recipes call for a room temp egg, but I use mine straight out of the refrigerator. I find that this helps the cookies hold their shape better and avoids the need for refrigerating the dough before baking. However, if the butter is not soft it doesn't mix well into the dough, but if it's too soft the dough won't hold it's shape.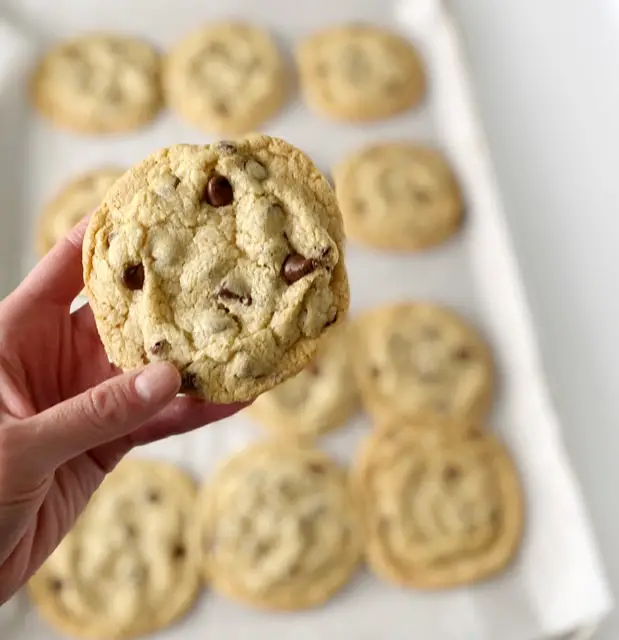 In a separate bowl, add the flour, baking soda and salt. Using a whisk, mix them all together until well combined. Slowly add to the wet ingredients.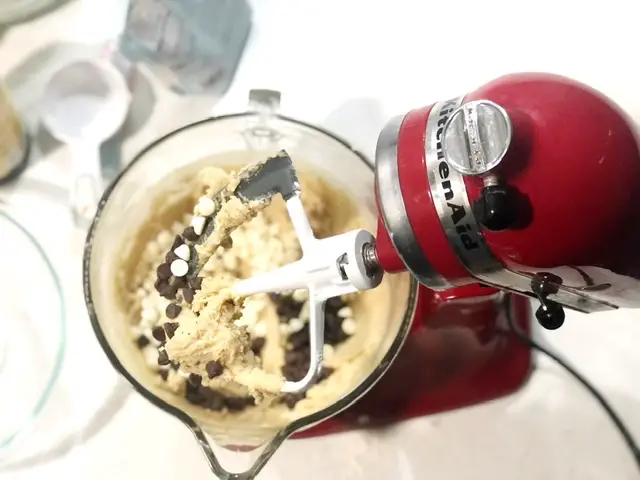 Add desired amount/flavor of chocolate chips and carefully combine. You can either use a hand held spatula or very carefully mix with the mixer paddle. I just use the mixer paddle and it works well.
Today I decided to use semi-sweet chocolate chips along with white chocolate chips. You can use milk chocolate, semi-sweet, dark, dairy free, chunks….whatever you'd like! The only thing I wouldn't use is something bitter or mini's. Other than that I don't think you can go wrong here.
I also don't ever measure my chocolate chips. I'm very particular about my baking. Measuring all ingredients, the temperature, precision…..until it comes to measuring chocolate chips. I heard a long time ago that you measure chocolate chips with your heart, not with a measuring cup and it stuck with me. LOL Feel free to measure them out or dump a little or a lot in. Whatever you're in the mood for!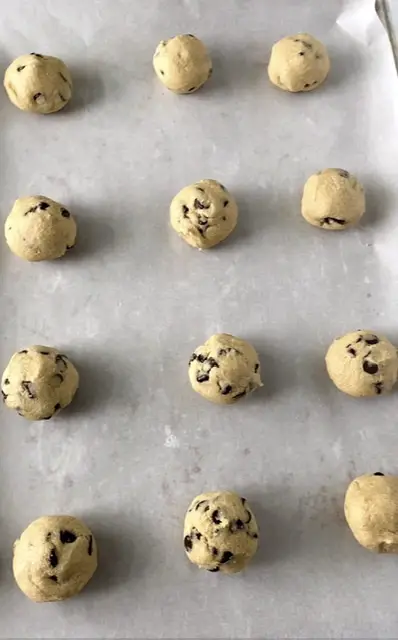 Next, I line a baking sheet with parchment paper. Then scoop them out, roll them into a ball and place them on the baking sheet.
Personally, I prefer using a cookie scoop because I like the cookies to be a uniformed shape. Not only do they look nicer but it also helps them to cook more evenly.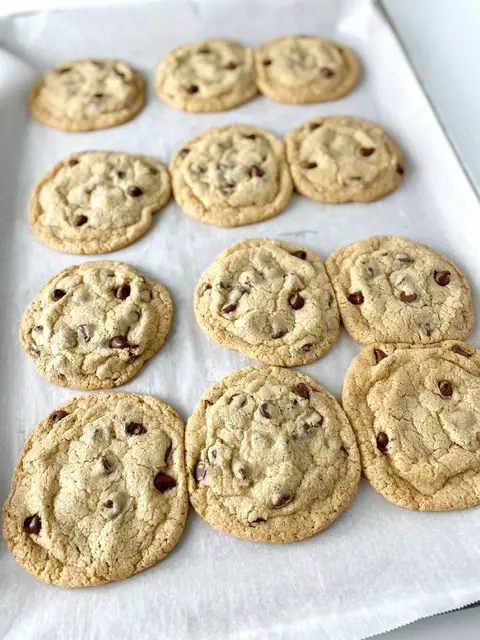 Bake at 375F for 7-9 minutes.
We like ours a little more doughy so I only bake them for 7 minutes. If you like yours with brown edges or more crunchy, bake them for 9 minutes or longer.
Place them on the counter or on a cooling rack and let cool for a minute or two and then enjoy!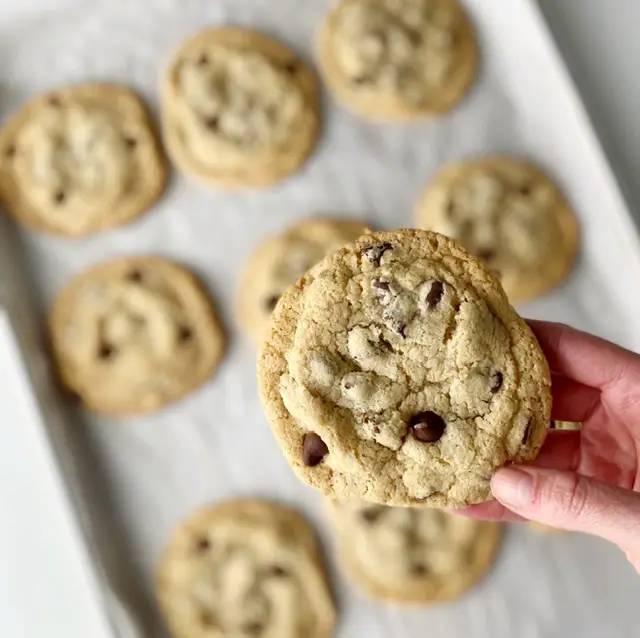 I hope you enjoy them as much as my family does. They really are so easy and delicious! Happy Baking!
Want more gluten free recipes like this one? Find them here!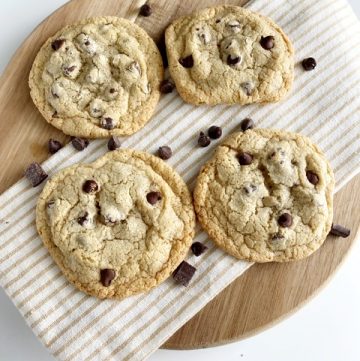 Gluten-free Chocolate Chip Cookies
Gluten Free flour, butter, vanilla, eggs, sugar and chocolate chips all combined to make delicious gluten free chocolate chip cookies.
Ingredients  
1 1/2

Cup

Gluten-Free Flour

1/2

tsp

Baking Soda

1/4

tsp

Baking Powder

1/2

tsp

Salt

1/2

Cup

Light Brown Sugar

1/2

Cup

White Sugar

1/2

Cup

Butter (or butter substitute)

1

Egg

1

tsp

Vanilla

6-12

Ounces

Chocolate Chips
Instructions 
To a mixer add the sugars, egg, vanilla and softened butter or butter substitute. Mix until well combined.

To a separate bowl, add the gluten-free flour, baking soda and salt. Using a whisk, whisk ingredients together.

Slowly add dry ingredients to wet ingredients and mix until dough forms.

Add desired amount of chocolate chips. Using either a spatula or the mixer paddle, slowly and carefully incorporate chocolate chips into dough.

Line a baking sheet with parchment paper. Scoop out cookie dough, preferably with a cookie scoop, and roll dough into a ball and place on cookie sheet.

Once cookies are baked, place on cooling rack for ~5 minutes then enjoy!