Jump to Recipe
A gluten-free bread recipe that's easily baked in a bread machine-no kneading required!  This soft gluten-free bread has an amazing texture and is easy to slice and only requires a few simple ingredients.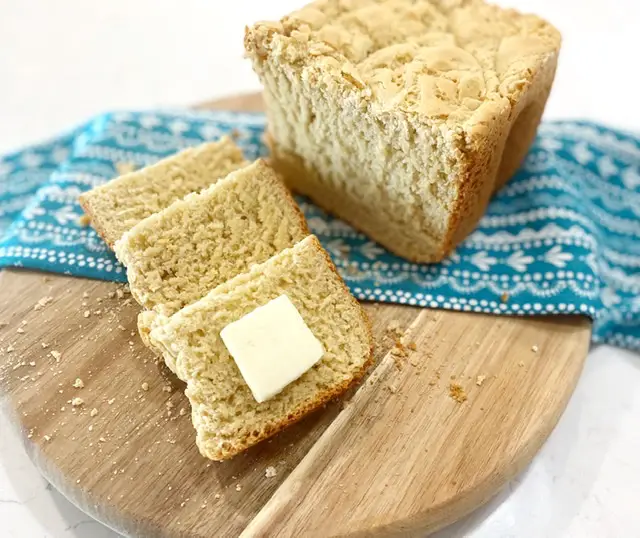 Gluten-Free Baking
I have been baking gluten-free for a few years now, but I am always learning something new! The different brands of flours, different tastes and the science behind it all. At times, it can be overwhelming, but I've always tried to keep things in perspective. It's just bread. If it doesn't come out perfect every time, it's ok, it's not the end of the world. But thankfully, things usually turn out so I try not to overthink it.
That being said, I like to keep my recipes simple and include as many tips and tricks as I can. I am a homeschooling mom of four, I don't have a ton of free time in this season of life and I'm sure you don't either!
For majority of my gluten-free baking recipes I use Bob's Red Mill 1:1 baking flour. It has the best taste and texture, in my opinion, than many other gluten-free flours out there. However, I know that yeast baking is different than traditional baking.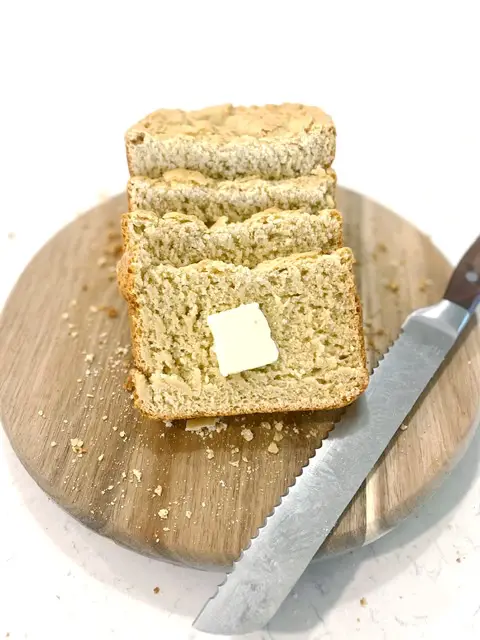 Different gluten-free flours for bread making
Gluten-free flours contain xanthan gum (a stabilizer that lends structure to gluten-free baked goods), it's key to helping your gluten-free baked goods rise. We don't want a dense, hard, piece of bread, am I right? So typically you will see bakers recommend a Gluten-free All Purpose flour like King Arthur's Gluten-Free All Purpose Flour. This flour is perfect if you are planning on hand-kneading your dough because it does not contain xanthan gum so bakers are free to add however much or little they think their particular recipe will need.
The xanthan gum in gluten-free flour, helps make the dough slightly stretchy and allows it to capture carbon dioxide bubbles during the initial rise. Once the dough is then transferred to a baking dish for the second rise, however, the xanthan structure breaks down and won't give the dough enough strength for the second rise. Thus giving you a dense, low rising bread. Nobody wants that!
This is why 1:1 flours with xanthan gum already added are not typically recommended for yeast baking where your bread needs to rise. You risk not having enough xanthan gum needed and ending up with a dense, flat bread.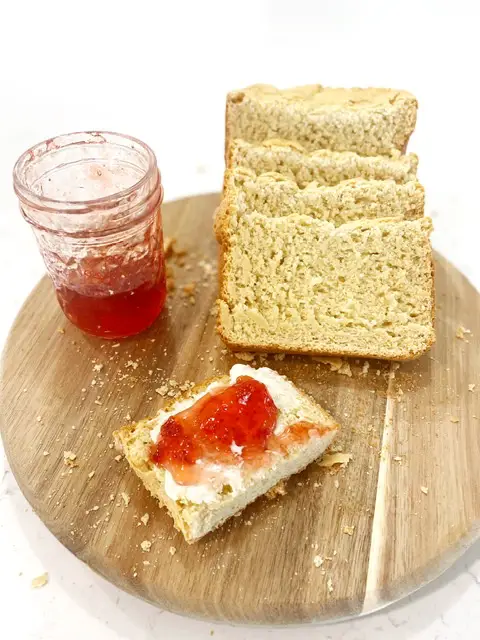 Why this gluten free bread machine loaf bread recipe is different
I told you I like easy and delicious recipes right? That's exactly what this one is! I had Bob's Red Mill 1:1 gluten-free flour on hand so that's what I used and it worked great with this recipe. Because it's made in a bread machine it does all the kneading, rising and baking right inside so I didn't have to worry about the xanthan gum breaking down after the final rise while transferring to a pan-because I didn't have to transfer it. You literally set it and forget it.
Did you know they now have bread machines with a gluten-free setting now? I feel like everyone probably knows this but me. Ha! I was shopping the other day and happened to see one-so neat. If you have one, feel free to use it for the recipe but if you're like me and have an older bread machine don't worry, it'll work just fine.
My goal here is to encourage others that 'allergy friendly' gluten-free baking/cooking does not have to be complicated and an overwhelming, unattainable goal. You can do this! Whether you have the 'right' equipment or ingredients needed. I'll share tips and tricks, but lets enjoy the process and not stress about it. Now that we've concluded our science lesson and pep talk, lets start baking!
Ingredients
3 1/3 Cups Gluten Free flour (with xanthan gum)
1/4 Cup Sugar
1 tsp Salt
1/3 Cup Water
1/2 Cup Almond (or milk of choice)
2 tsp yeast
1 egg
1/4 Cup butter (or oil of choice)
*This recipe is easily made dairy free by using milk and butter substitute of choice. We have dairy sensitivities, but butter baked in recipe does not upset anyone's stomach here so that is what I did. Feel free to use oil to substitute the butter and almond or oat milk in place of whole milk.
If you can have dairy use whole milk and butter!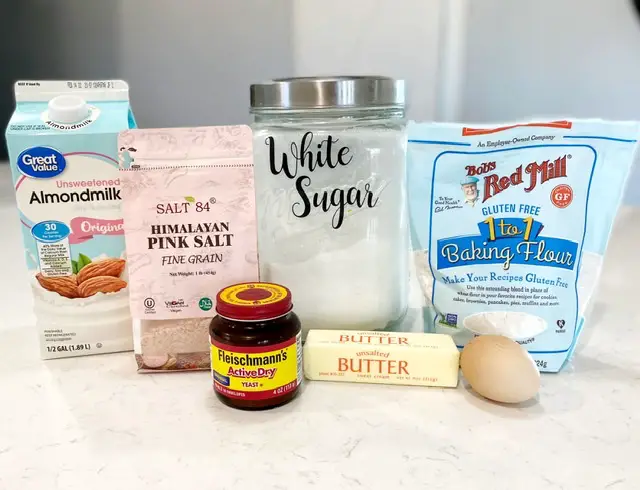 Start by adding gluten free flour, sugar and salt to your bread machine. Use a fork or whisk to gently mix dry ingredients together.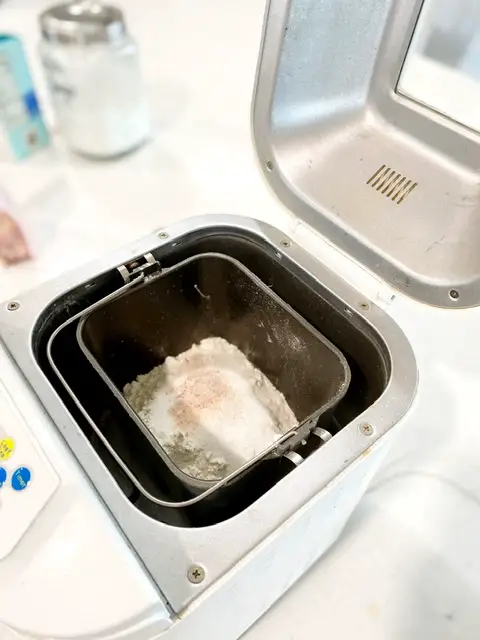 Tips For Measuring Gluten-Free Flour
The best way to measure gluten-free flour is the "spoon & level" method. Using a spoon, scoop the flour into the measuring cup.  After you've spooned the flour into the measuring cup, use the back of a knife to level off the top of the measuring cup.
*It is best not to scoop the flour out of the bag with your measuring cup. If you do you may get more flour than the recipe calls for.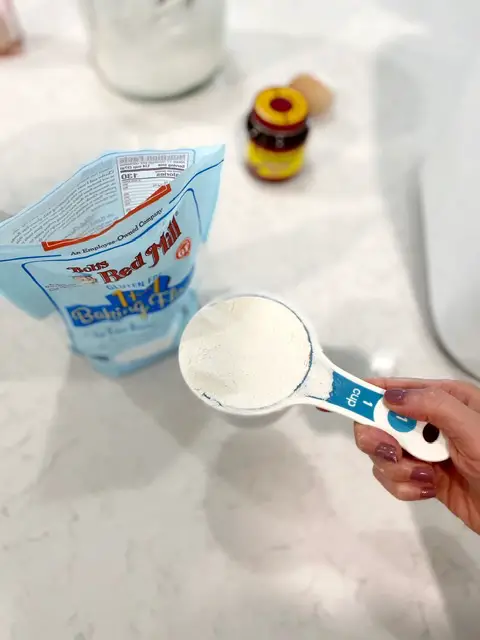 Next, measure out milk and water. Because we are baking with yeast today, it's very important that all ingredients are room temperature because yeast thrives in a warm environment so make sure that the milk and water have had time to acclimate. If not, you can microwave them for ~30 seconds, being careful not to overdo it.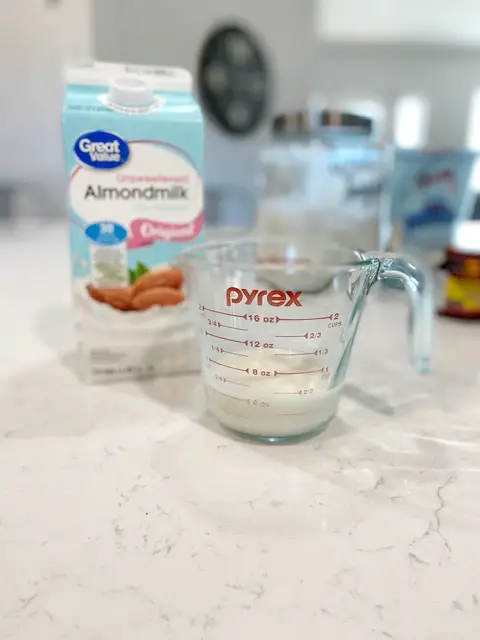 Next, beat the egg and add to the milk and water mixture (unless it has been microwaved, then keep them separate so as not to scramble the egg). Again, make sure egg is room temperature. We use farm fresh chicken eggs we keep on the counter so they are always room temp.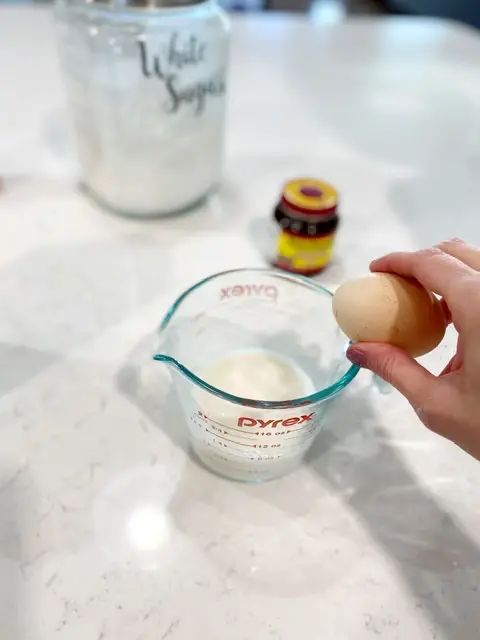 Then carefully pour them into the bread machine.
If using butter, melt in the microwave then add to bread machine (or add oil or butter alternative of choice).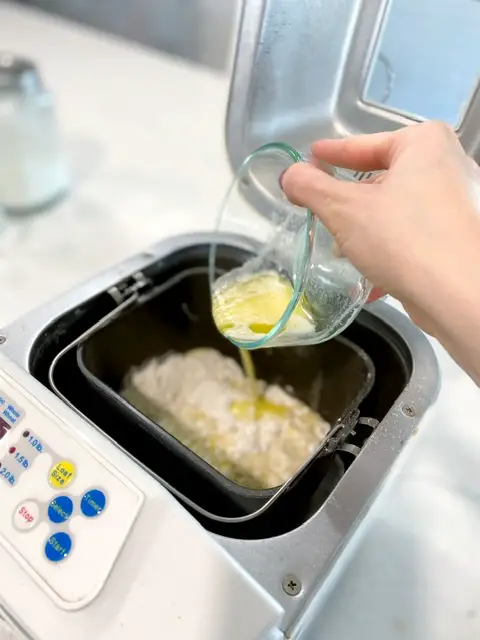 Last, but not least, add the 2 tsp of yeast.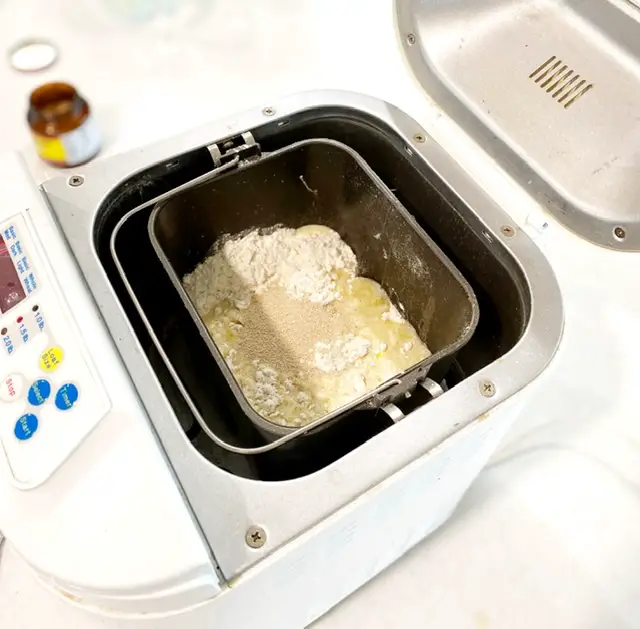 Set your bread machine to 1.5 lbs, sweet bread or gluten-free bread if using a machine with that option.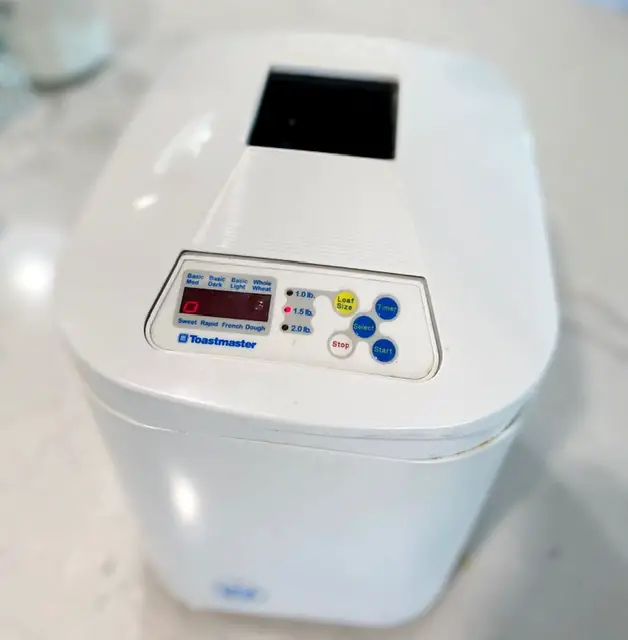 And that's it! The bread machine does the hard part for you. No need to worry about kneading the dough 😉 My machine took about 3 hours and then the delicious bread was ready! My family loved it and proceeded to eat the entire loaf within 30 minutes. I couldn't snap a few pics fast enough!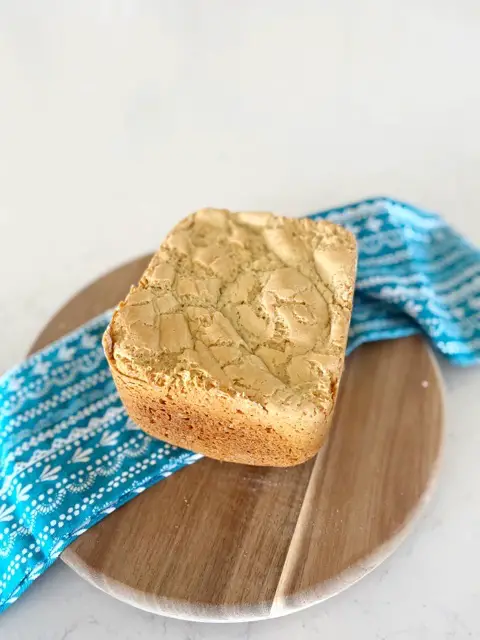 Happy baking!!

Want more gluten free recipes to try? Find them here!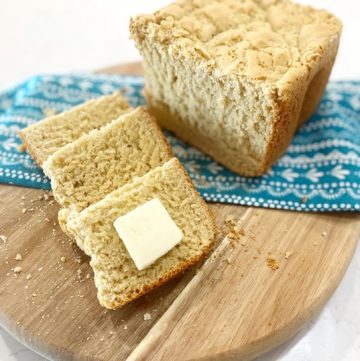 Gluten Free Bread Machine Loaf Bread
This gluten free bread machine loaf bread is so easy and delicious. Using only gluten free flour, almond milk, butter/oil, salt, water, egg and yeast it makes soft and fluffy loaf bread.
Ingredients  
3 1/3

Cup

Gluten Free Flour

1

tsp

Salt

1/4

Cup

Sugar

1/2

Cup

Milk (whole, almond, oat)

1/3

Cup

Water

1

Egg (beaten)

1/4

Cup

melted butter (oil/butter substitute)

2

tsp

yeast
Instructions 
Add gluten free flour, salt and sugar to bread machine. Gently combine with fork or whisk.

Add room temperature milk and water to dry ingredients.

Beat egg and add to mixture.

Melt butter (or butter substitute) and add to bread machine.

*Or oil if using instead of butter

Set bread machine to sweet or gluten free cycle (if option available)
Notes
Can use whole, almond or oat milk
Substitute oil or butter alternative for melted butter