Jump to Recipe
No one will ever believe this homemade hot chocolate is dairy free. Made with almond milk, hot cocoa, water, sugar and vanilla. It is so rich and so creamy and so easy to make!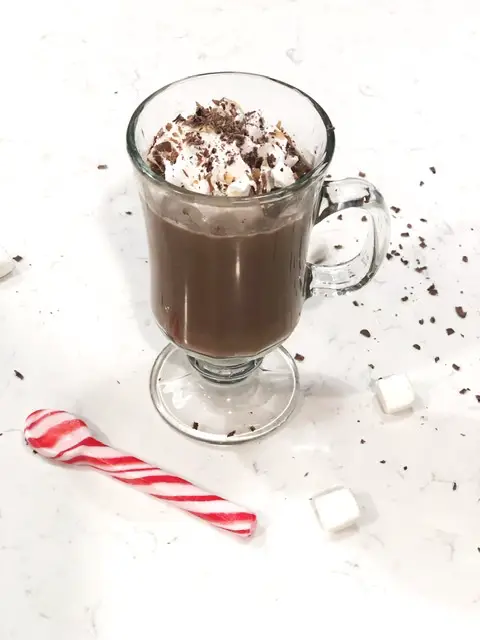 I don't know about you, but my kids LOVE hot chocolate in the winter time. It is a popular and frequent request. Especially on our family movie nights, there's just something about snuggling up together to watch a Christmas movie and sip on hot chocolate. It's the best.
However, it can be a bit of a challenge when two of my kiddos and myself are dairy sensitive. Last year, one of my sweet friends shared her favorite hot chocolate recipe. I made it for the dairy drinkers in our house and they raved about how delicious it was! My fellow dairy free drinkers were slightly jealous because we had to just warm up our chocolate almond milk or drink the subpar dairy free mix.
Then one day it came to me. Why don't I just swap out the whole milk for almond milk? Duh! Why hadn't I thought of that before?! It was good, but definitely not as creamy and my eldest daughter, who does not like almond milk, let me know she could taste it and was not a fan.
Discouraged, I tried again. This time mixing half chocolate almond milk and half unsweetened and bingo! A winner. I've even made this batch for my nieces and nephew and they couldn't tell the difference. Top it with their favorite whipped topping, chocolate shavings, sprinkles and maybe even a candy cane. It's sure to be a winner!
Here's What You Need for Dairy Free Hot Chocolate:
Vanilla Extract
Cocoa Powder
White Sugar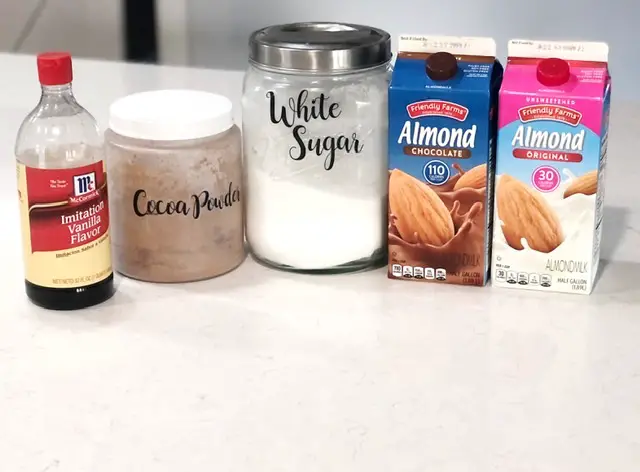 First, combine the cocoa powder, sugar and water in a large pot.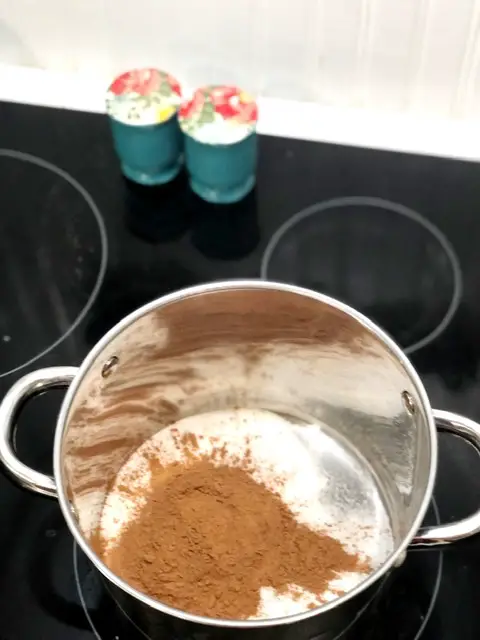 Stir over medium heat until sugar is dissolved.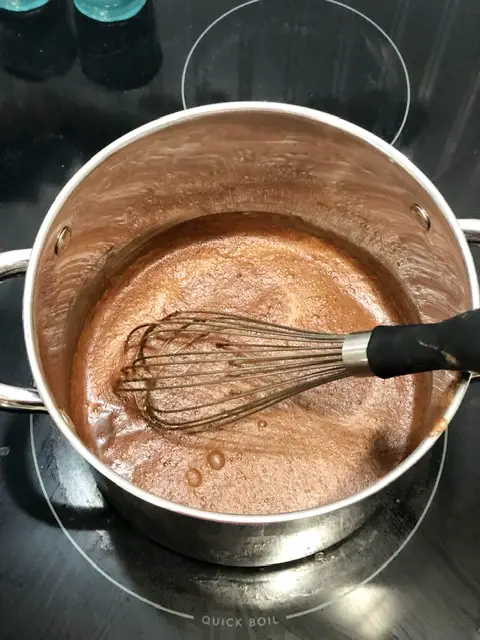 Add 2 cups of the chocolate almond milk.
In today's recipe, I'm using Aldi's brand of almond milk, but you can use whichever brand you prefer. Don't like almond milk? You can always substitute oat milk instead! And yes, they even have chocolate oat milk, you can find some here.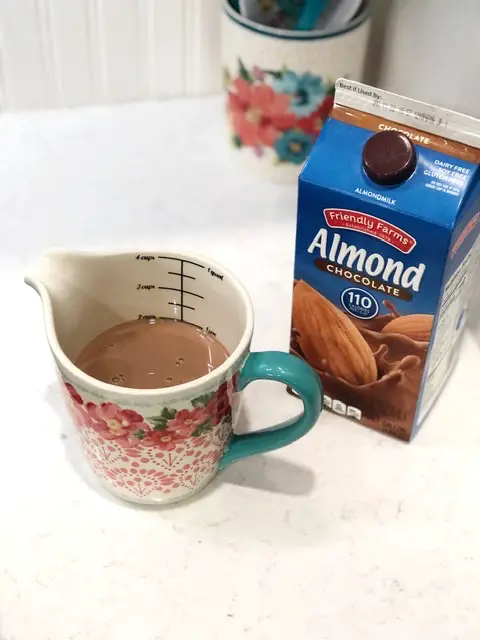 Then add 2 cups of the unsweetened almond milk.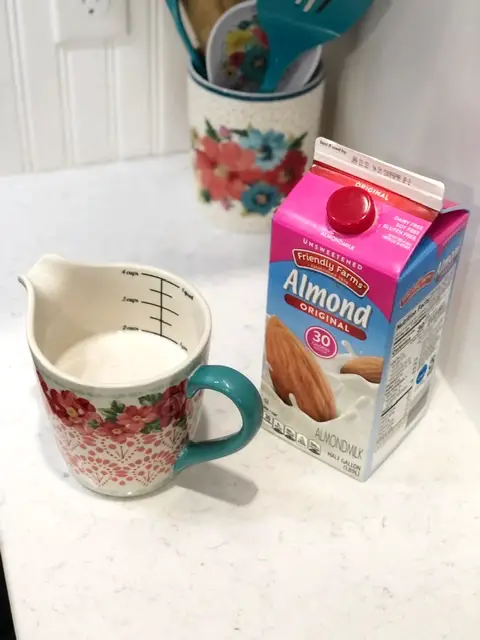 Stir until combined and hot chocolate reaches desired temperature.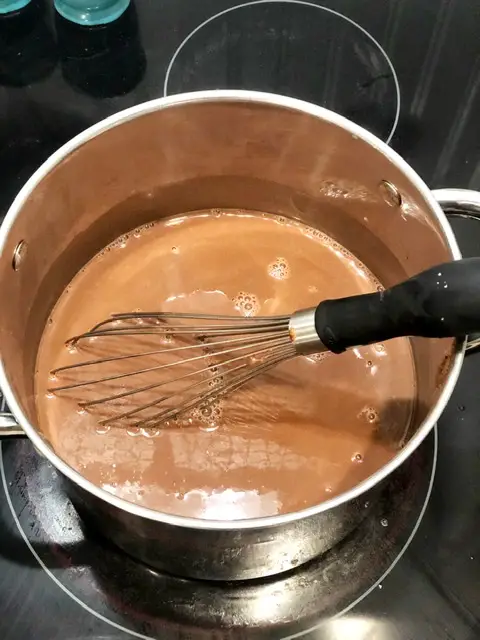 Once hot chocolate has reached desired temp, remove from heat and add 1 tsp of vanilla.
(Why remove it from heat first? Vanilla can actually evaporate if you add it to the mixture while it is still on the burner and cooking. So it's best to remove it from the heat then add the vanilla so that yummy flavor doesn't evaporate!)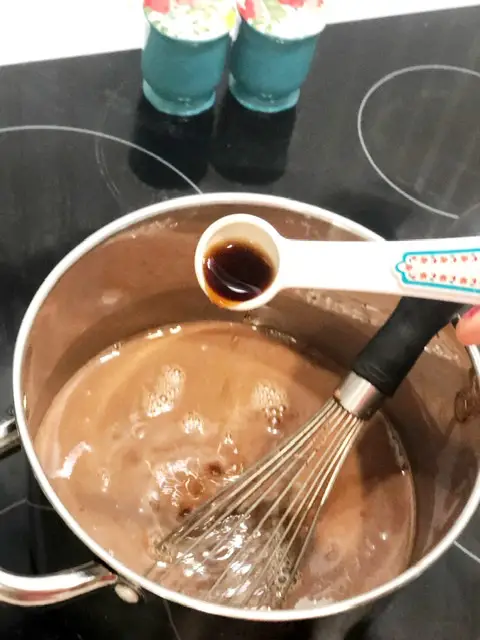 And there you have it! Creamy, chocolatey, dairy-free hot chocolate. Now all that's left to do is pour it into a mug and enjoy! My kids love it topped with homemade whipped topping and sprinkles. I'm convinced they would put sprinkles on everything if I let them. Ha! Personally, I love to top mine with dairy free whipped topping and dark chocolate shavings, yum!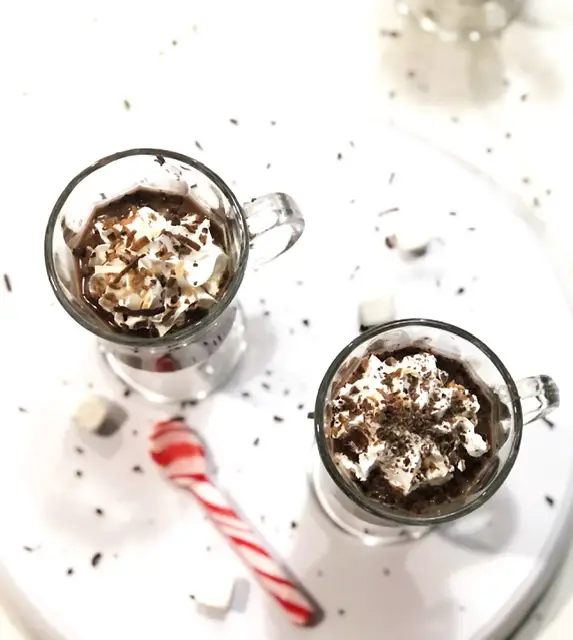 Looking for more delicious dairy free recipes? Find them here!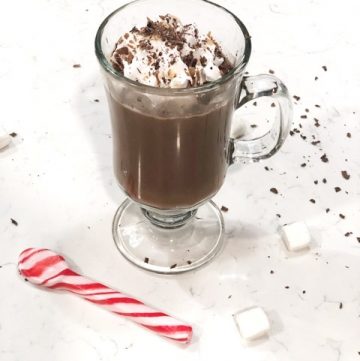 Dairy Free Hot Chocolate
Rich and creamy dairy free hot chocolate made with almond milk, hot cocoa, water, sugar and vanilla. It's unbelievably delicious!
Ingredients  
1/3

Cup

Cocoa

1/2

Cup

Sugar

1 1/2

Cups

Water

2

Cups

Chocolate Almond Milk

2

Cups

Unsweetened Almond Milk

1

tsp

Vanilla
Instructions 
Add sugar, cocoa and water to large pot. Cook on medium heat until sugar is dissolved.

Add 2 cups of chocolate almond milk and 2 cups regular, unsweetened almond milk.

Warm over medium heat, stirring continuously, until hot chocolate reaches desired temperature.

Remove from heat and add 1 tsp of vanilla.

Pour into mug and top with coconut whipped topping. Enjoy!