Jump to Recipe
Perfect Gluten-Free & Dairy-Free Pumpkin Roll! Moist spiced cake with a deliciously dairy free cream cheese filling!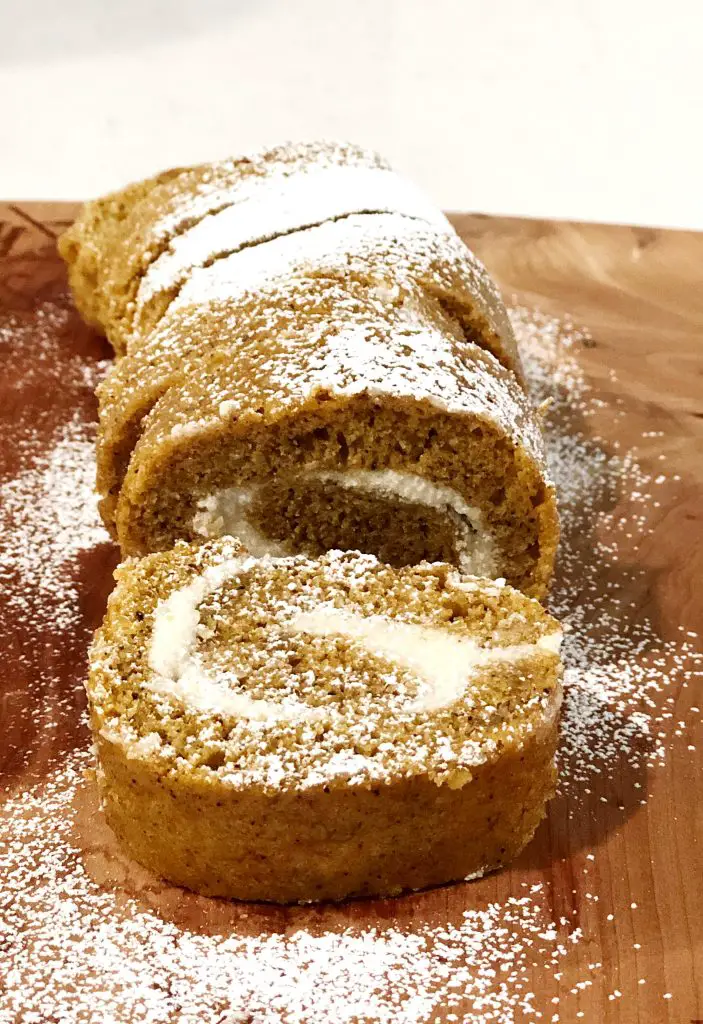 A pumpkin roll has long been one of my favorite Thanksgiving day treats! My mom made one every year while I was growing up and I always looked forward to it. I guess I got so spoiled to her making one every year that I rarely ever make one as an adult.
Everyone always goes crazy for a pumpkin roll, but honestly, it can be quite an intimidating dessert. Especially if you need to make a gluten free and dairy free pumpkin roll so I hadn't even tried. Until today! And let me tell you, I am so glad I did because it is delicious! And really quite easy.

Ingredients:
FOR THE CAKE ROLL:
3/4 cup Gluten-free flour
1/2 tsp baking powder
1/2 tsp baking soda
1/2 tsp cinnamon
1/2 tsp cloves
1/4 tsp salt
3 large eggs
1 cup sugar
2/3 cup canned pumpkin
1 cup walnuts (optional)
1/4 cup powdered sugar for rolling
FOR THE FILLING:
8 ounces Dairy free cream cheese (or regular)
6 tbsp butter or non dairy butter-melted
1 tsp vanilla
1 cup powdered sugar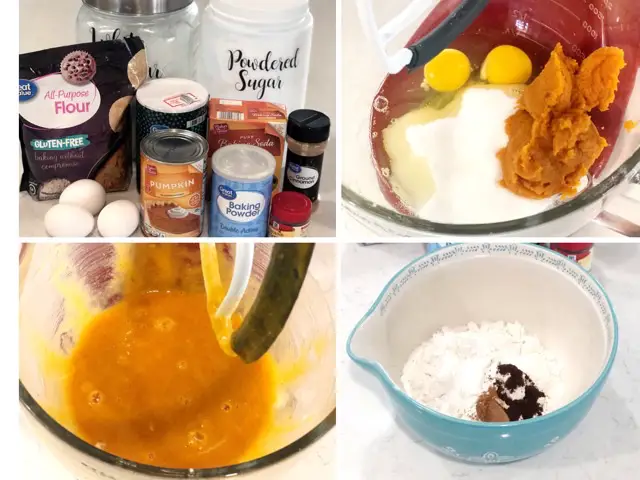 My favorite gluten-free flour is Bob Red Mill's 1 to 1 Gluten-free flour. My local Walmart was currently out so I settled with the store brand and it worked just fine! This recipe is pretty forgiving with all of the spices so I wouldn't stress if they don't happen to have your favorite brand in stock. The spices help "amp" the flavor of the gluten free flour and the pumpkin makes it very moist which is helpful because gluten free desserts/cakes tend to be dry.

First Things First
Start by mixing the sugar, eggs and canned pumpkin in a stand mixer.
In a separate bowl, combine the gluten free flour, baking soda, baking powder and spices. Whisk until well combined.
Slowly add the flour mixture to the wet ingredients and mix until smooth.
Grease a baking sheet or jelly roll pan and line with parchment paper. It's best to leave a slight overhang so you can easily remove the pumpkin roll from the pan.
Bake at 375 for 13-15 min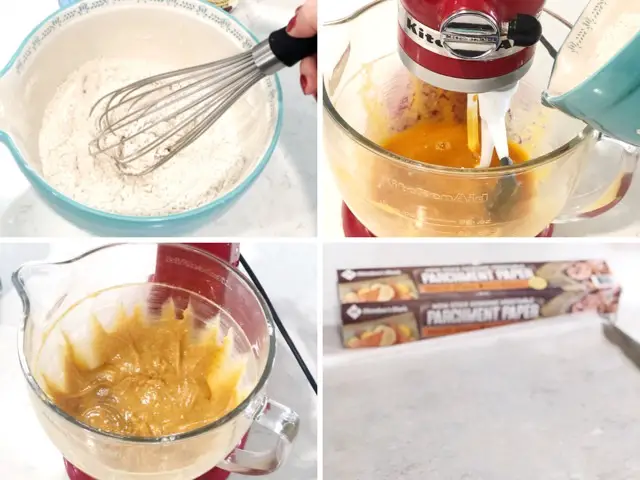 While your cake is in the oven, go ahead and make your dairy free cream cheese icing!
For the dairy-free cream cheese I used Daiya cream cheese and it honestly tasted just like regular cream cheese icing. And last but not least, for the butter substitute I used Country Crock Plant Butter. For this recipe, I would definitely recommend going with a 'stick' butter rather than a 'spreadable' because it seemed to have more of the traditional creamy texture that we all know and love. And there you have it. A perfect gluten free and dairy free pumpkin roll!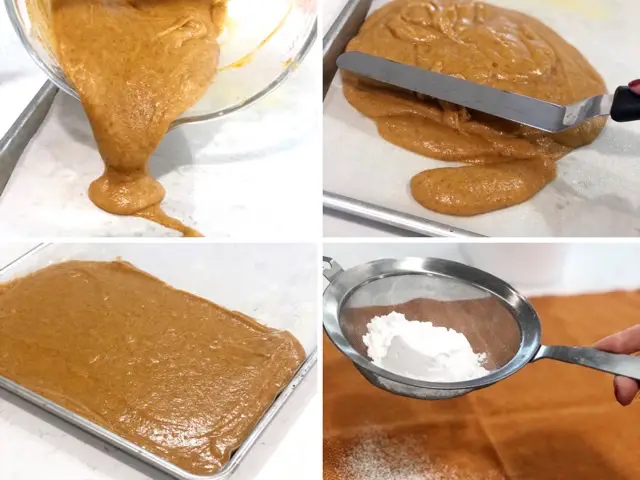 Of course, this recipe can also be modified if you are not gluten-free or dairy-free! It's pretty flexible. And delicious. But didn't I already say that? I can't wait to make this pumpkin roll for my family this Thanksgiving and I hope you enjoy it as much as I did!
Interested in more recipes? Find them here!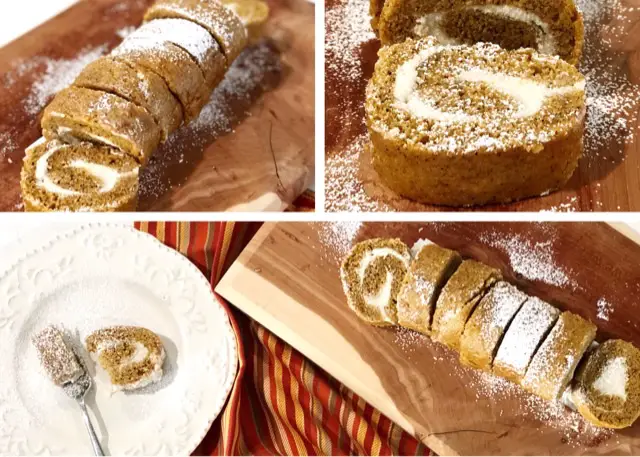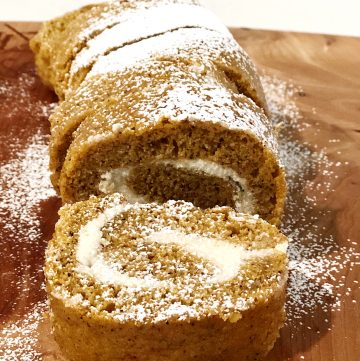 Perfect Gluten-Free Dairy-Free Pumpkin Roll
Amazingly moist, flavorful pumpkin roll that's gluten-free and dairy-free
Ingredients  
FOR THE CAKE ROLL:
3/4

cup

Gluten-free flour

1/2

tsp

baking powder

1/2

tsp

baking soda

1/2

tsp

cinnamon

1/2

tsp

cloves

1/4

tsp

salt

3

large eggs

1

cup

sugar

2/3

cup

canned pumpkin

1

cup

walnuts (optional)

1/4

cup

powdered sugar for rolling
FOR THE FILLING:
8

ounces

Dairy free cream cheese (or regular)

6

tbsp

butter or non dairy butter-melted

1

tsp

vanilla

1

cup

powdered sugar
Instructions 
Preheat oven to 375F. Grease a 15×10 jelly roll pan and line with parchment paper.  For best results, cut parchment paper to fit the bottom of the pan while leaving an inch overhang on each of the short ends of the pan. 

To a mixer, add the eggs, sugar and canned pumpkin. Mix until smooth.

In a separate bowl, whisk together the gluten free flour, baking powder, baking soda, cinnamon, cloves and salt. Once combined, gradually add to wet ingredients and beat until smooth.

Once mixed, pour the mixture over the parchment paper. Bake for 13-15 minutes, until the edges pull away from the sides of the pan and center is done.

Lay a large tea towel on the counter. With a fine mesh sifter, dust 1/4 cup of powdered sugar all over the towel.

When the cake comes out of the oven, turn the pan upside down onto the tea towel so that the parchment paper is on the top. It is best to turn it out right on the short edge of the towel. Peel off the parchment paper and roll the pumpkin cake up with the towel to cool.

While the roll is cooling, make the filling. Using a hand or stand mixer, whip the cream cheese, butter, vanilla, and powdered sugar together until it is light and creamy. Once the roll is cool, unroll and with an offset spatula, carefully spread the filling in an even layer over the cake. Roll it up and wrap tightly in plastic. Refrigerate for one hour before serving and enjoy!